QED-Trinity College
Classes of 1961 - 1968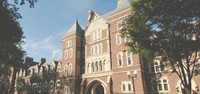 In Memory
James Douglas Spencer - Class Of 1962
(November 2, 1940 - November 12, 1988)
James Douglas Spencer, 1962
James D. Spencer of Wakefield, MA died on November 12, 1988. He was 48.
Born in Providence, RI, he graduated from East Providence High School in that city before attending Trinity. He received his B.A. degree from Trinity in 1962 and his M.S. degree from Auburn University in 1974.
He was commissioned in 1962 through the Air Force Reserve Officer Training Corps, entered pilot training and earned his wings at Reese Air Force Base in Texas in 1963. He is also a graduate of Squadron Officers School, Air Command and Staff College, and Air War College at Maxwell Air Force Base in Alabama.
His past assignments included duties as an instructor pilot at Laughlin Air Force Base, a pilot in Vietnam where he completed 250 combat missions, a pilot instructor at Williams Air Force base, air liaison officer in the republic of Korea, instructor at Patrick Air Force Base, chief of the doctrine division at Langley Air Force Base, and special assistant to the deputy commander for the Tactical Systems/Electronic Systems Division at Hanscom Air Force Base.
Surviving are his wife, Marilyn Crawford Spencer, of Wakefield, MS; two daughters, Karen L. and Susan C., and a son, Jeffrey D., all of Wakefield; and a sister.
[From the Trinity Reporter, Spring 1989.]