QED-Trinity College
Classes of 1961 - 1968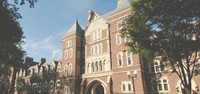 In Memory
Leon Gustave (Gus) Shilton - Class Of 1965
SHILTON--Leon Gustave, age 63, of Rumson, NJ, died at his home on Sunday, March 18, 2007.
Dr. Shilton was a Professor of Finance at Fordham University. Loving husband of Robertamarie Kiley; adored father of Sean, Moriah, Alycia, Lillith, and Sonjelle; cherished grandfather of Dylan Lloyd; brother of David Shilton and Marla Batchelder.
A memorial service will be held Friday at 10:00 am at Christ Church, 380 Sycamore Ave., Shrewsbury, NJ. Damiano Funeral Home, Long Branch is in charge of services. Letters of condolence may be sent through our web address: damianofuneralhome.com.
[Published March 21, 2007 in The New York Times]

From the Trinity Reporter, Fall 2007:
Leon Gustave Shilton, 1965
Leon G. Shilton, 63, of Rumson, NJ, died on March 18, 2007.
After attending Northeast Public in Philadelphia, he graduated from Trinity with the Class of 1965. He received his Ph.D. in business from the Univ. of Wisconsin, Madison, in 1984.
He served as a Marine communications officer in Vietnam from 1968-1969.
He was a professor of finance at Fordham Univ.
He leaves his wife, Robertamarie Kiley, and children Sean, Moriah, Alycia, Lillith, and Sonielle.