QED-Trinity College
Classes of 1961 - 1968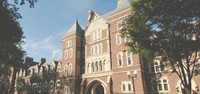 In Memory
Glenn Adrian Robinson - Class Of 1967
(September 13, 1945 - May 23, 2008)

Professor Glenn A. Robinson, A.B., A.M., Ph.D., died on Friday, May 23, 2008, at his home in Rock Island, following an extended illness. He was 62.
Funeral services will be 10 a.m. Thursday, May 29, at Wheelan-Pressly Funeral Home, 3030 7th Ave., Rock Island, with visitation from 9 to 10 a.m. The Rev. Richard Priggie will preside, with burial following at Chippiannock Cemetery. Memorials may be made to Augustana College.
Glenn Adrian Robinson was born Sept. 13, 1945, in Pennsylvania, to Harold W. and Dr. Corinne Hogden Robinson. He graduated from Trinity College in Hartford, Conn., before earning his master's in government and Ph.D. in political science, both at Harvard University. His dissertation, on the integration of political and economic theory, was written under the supervision of Professor Samuel H. Beer, then Eaton Professor of the Science of Government at Harvard.
Following teaching positions at Trinity, Harvard and University of Texas, Dr. Robinson joined the faculty of Augustana College in 1988. He received tenure in 1992 and was promoted to the rank of full professor in 2005. He taught courses related to government, public policy and administration, fund accounting and public finance. He was deeply admired by his students, many of whom he encouraged to pursue careers as public servants.
In addition to his former students, those left to honor his memory include many friends from the community as well as his colleagues at Augustana College, where despite his illness he continued to teach until days before his passing.
[From The Dispatch and Rock Island Argus (Moline, IL), May 27, 2008, online edition.]