QED-Trinity College
Classes of 1961 - 1968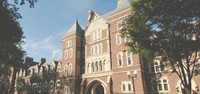 In Memory
Gilbert Lee Nelson - Class Of 1964
(October 5, 1942 - December 18, 2011)
Gilbert Lee Nelson was born to Gilbert L. Nelson, Sr. and Lillian A. McCargo Nelson on October 5, 1942 in Princeton, New Jersey. Gil spent his childhood in New Brunswick, where he graduated from the public school system in 1960 and later returned to live and work.

After high school, Mr. Nelson entered Trinity College in Hartford, Connecticut, where he studied government and graduated in 1964. In 1967, he received a Juris Doctor degree from Georgetown University Law School in Washington, D.C. and was admitted to the New Jersey bar in 1968. Mr. Nelson was Middlesex County's first African-American lawyer and was one of only 60 black attorneys in New Jersey in 1968. In 1969, he was sworn in as Middlesex County's first African-American Assistant Prosecutor. Mr. Nelson maintained a private law practice in New Brunswick from 1968 to 1987. Mr. Nelson served as New Brunswick's City Attorney from 1974 through 1985 and as Mayor of New Brunswick in 1978. In 1987, he launched his own private consulting business. Mr. Nelson worked with non-profit clients on urban development initiatives in New Brunswick and in neighboring Newark, New Jersey.

Mr. Nelson is survived by his wife, Mary; his daughter Jessica Nelson-Clark; his step-daughter Christine Cave; his son-in-law Frank Clark II; his granddaughters Lillian Clark and Sophia Scheulov; his Aunt Betty and Uncle James Scott; and a host of other relatives and dear friends.

A memorial service in celebration of Mr. Nelson's life will take place on Saturday, January 7th 2012, 11 a.m. at Christ Church, located at 5 Paterson Street, New Brunswick, NJ. In lieu of flowers, contributions may be made "in memory of Gilbert L. Nelson" to the National Medical Association (NMA) c/o Continued Research for Malignant Melanoma, 8403 Colesville Rd., Suite 920, Silver Spring, MD 20910." Arrangements are by Anderson Funeral Service, New Brunswick.
[Published in Home News Tribune on Dec. 23, 2011]