QED-Trinity College
Classes of 1961 - 1968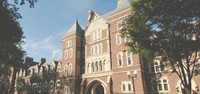 In Memory
Peter Jonathan Knapp - Class Of 1965
(July 4, 1943 - September 14, 2014)
Peter Jonathan Knapp, 71, of West Simsbury died on Sunday, September 14, 2014 at St. Francis Hospital Hospice Care surrounded by his family. He leaves his wife of 27 years, Anne Horowitz Knapp.
Mr. Knapp was born in Hartford, Connecticut, on July 4, 1943, son of the late Charles William Knapp and Ruth Bowers Knapp. He was educated in the public schools of West Hartford and graduated from Trinity College, Hartford, in 1965 with a Bachelor of Arts degree in History. He received Master's degrees from Columbia University and the University of Rochester in History and Library Science. Mr. Knapp spent his entire professional career at Trinity College, Hartford, as College Archivist and in other positions including Special Collections Librarian of the Watkinson Library and College Reference Librarian. He retired in 2014.
He collaborated with his wife in writing the book "Trinity College in the Twentieth Century: A History" published in 2000. His interests included maritime history and the collecting of books and Lionel model trains. He was a member of the Grolier Club in New York City.
In addition to his wife Anne, Mr. Knapp leaves a daughter Jacqueline; his brother Richard Knapp and the latter's wife Ann of West Simsbury; his mother-in-law Marguerite Horowitz of West Hartford; and nieces and nephews Charlotte Knapp of Silver Spring, MD; Jonathan Knapp of Tolland, CT; Lucelia Fryer of Tariffville, CT; and William Knapp of Palm City, FL.
There will be a memorial service at Trinity College Chapel, 300 Summit Street, Hartford at a date and time to be announced. Interment will be private at the convenience of the family. The Vincent Funeral Home has care of the arrangements. Please visit Peter's "Book of Memories" at www.vincentfuneralhome.com for online condolences.
[Published in The Hartford Courant on Sept. 21, 2014]
Read Condolence Comments in Memory of Peter in the Hartford Courant Guest Book here.
From the Trinity Reporter, Winter 2015:
IN MEMORY: PETER JONATHAN KNAPP '65, FORMER COLLEGE ARCHIVIST AND SPECIAL COLLECTION LIBRARIAN
Peter Knapp '65 passed away on September 14, 2014, after an unexpectedly swift decline in health. Knapp was a longtime employee of the College and was the go-to person for anyone with a question about Trinity and its history. He was the College's expert on past presidents, the construction of the Long Walk, the symbols and traditions of the College, faculty emeriti, and dates of academic changes and construction of new buildings–to name but a few. He was of enormous help to people throughout the Trinity community as they sought to understand their College's historic past and the genesis of elements of our current campus life.
Knapp majored in history and served as a student assistant in the Watkinson Library during all four years as an undergraduate. While at Trinity, he was the recipient of the Ferguson Prize and the Jerome Webster Student Book Prize. He joined the library as head of reference in 1968, after earning master's degrees in history from the University of Rochester and in library science from Columbia University. He began working with the College's archives in 1972, and in 1974 was named head of reference and College archivist. In 1994, he moved from the Reference Department to the Watkinson Library in his role as College archivist. At that point he could focus full time on organizing the College archives, and he began working on the book Trinity College in the Twentieth Century, which was published in 2000 as the "second volume" of Glenn Weaver's History of Trinity College, published in 1967. Knapp wrote this book with his wife, Anne, who earned a master's degree from Trinity in 1976.
Knapp's collaboration with Anne was an important part of his work and his life. In addition to their four-year collaboration on the book, they designed a Watkinson exhibition for the 140th anniversary of the end of the Civil War and shared a love of books and travel to historic places. They were married in the Trinity College Chapel in 1987.
Knapp was also an active alumnus of the College. He was the recipient in 1995 of the Class Secretary Award at his 30th Reunion and in 2005 received the Alumni Medal for Excellence. Rick Ring, head curator of the Watkinson Library, said of Knapp: "The impression of a man like Peter Knapp, who has with dedication and diligence served Trinity College for more than four decades, will last well beyond his lifetime. The sacred trust for those of us who inherit the product of his labors is to recognize and honor it and to carry the work forward–perhaps finding new paths but never jeopardizing the character and reputation of the institution that he helped to create."
Knapp is survived by his wife of 27 years, Anne; daughter Jacqueline '10; brother Richard and his wife, Ann; mother-in-law Marguerite Horowitz; and several nieces and nephews.