QED-Trinity College
Classes of 1961 - 1968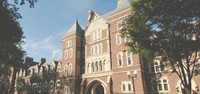 In Memory
Paul J. Devendittis - Class Of 1961
(February 23, 1939 - August 7, 2012)

New London - Paul J. Devendittis, 73, of New London, entered eternal life on Tuesday, Aug. 7, 2012.

He was born Feb. 23, 1939, in New London, the son of the late Louis and Albina (Montanari) Devendittis. He attended local schools and graduated from New London High School, Class 1957, where he was class president for four years.

He received his bachelor's degree from Trinity College, his master's degree from the University of Michigan and his Ph.D. from the University of Rochester. During his 40-year career at Nassau Community College, where he achieved professor emeritus, he served as chairperson of the history and political science department, chair of the academic senate, 1985-89, and dean of instruction, 1990-91, and received the Chancellor's Award for Excellence in Teaching, Honors Program, 1980-85, and the Distinguished Achievement Award, 1993. A true teacher's teacher and a man of the people, he was known to countless friends and family as "Dr. D" and "Uncle Paul". To his two sons, he will forever be "Dad", and that is his gift to them.

He is survived by two sons, Joe Mannetti of New London and Monte Devendittis of Long Island, N.Y.; a brother and sister-in-law, Joseph and Vivian Devendittis of New London; three nieces, Candace, Rachel and Anna; his companion, Antoinette MacArthur of New Jersey; his former wife, Gloria (Cortina) Devendittis of Waterford; and sister-in-law, Bunny Devendittis of New London.

He was predeceased by a brother, Frances Devendittis.

His family will receive relatives and friends from 6 to 8 p.m. Thursday, at the Impellitteri-Malia Funeral Home, 84 Montauk Ave., New London. A Funeral Home service will be held at noon Friday, followed by interment in St. Mary Cemetery.
[Published in The Day (CT) on Aug. 9, 2012]