QED-Trinity College
Classes of 1961 - 1968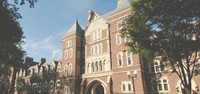 In Memory
Alfred Christian Burfeind - Class Of 1964
(September 16, 1942 - July 20, 1996)
Alfred Christian Burfeind, 1964
Alfred C. Burfeind of Hartford died unexpectedly on July 20, 1996 at age 53.
After graduating from high school in Plainfield, N.J., he attended Trinity where he was editor of the Tripod and a member of the choir and Glee Club. He received his B.A. degree in 1964. In 1967 he received his M.Div. degree from Hartford Seminary and in 1994, his M.I.S. degree from Southern Connecticut State College.
After serving as an editor for the former Hartford Times, he began a 25-year career at Trinity College in 1971. From 1971 to 1974 he was director of the news bureau; he then worked in the development office, resigning as director of development operations in 1990. For the past five years he was director of computer operations at the Trinity College Library.
An active member of Hartford's St. James Episcopal Church, he had been a committee member of the Episcopal Diocese of Connecticut, a corporator and trustee of Hartford Seminary, and a committee member and chair of the Greater Hartford Campus Ministry. He was a long-time member of the Hartford Chorale and the Farmington Valley Singers. In addition, he was active in the Hartford Rotary Club, where he was beginning a term as president.
Memorial gifts may be sent to the Elfert C. and Billie H. Burfeind Memorial Scholarship Fund at the College.
He leaves his wife, Lynne Oliver Burfeind M'82, of Hartford; two sons, Paul, of Bronxville, N.Y., and Matthew '92, of Boston, Mass.; a brother; and a sister.
[From the Trinity Reporter, November 1996]
Remebrance of Al
[Presented at Al's service by Jack Chatfield, Trinity '64.]
Alfred Christian Burfeind and I met sometime in sometime in September of 1960 in a suite in the Jarvis dormitory, months after the Greensboro sit-in and weeks before the election of John Kennedy. Our surface differences were quite pronounced, and some might have thought it unlikely that we would become lifetime friends. Al came from a serenely stable and rooted family and had lived all his years in Plainfield, New Jersey. He was a devout and dutiful Christian, long immersed in the ceremonies and activities of the church. He arrived at college with photos of his high school sweetheart, Lynn Oliver (a fellow musician and vocalist), whom he knew he would marry once the collegiate phase of his life was completed. Like so many devotees of liturgical and classical music, he had a penchant for math and aimed to major in physics. He played the trumpet, and soon enlisted in what was implausibly designated "The Trinity Marching Band." He was small of stature, undemonstrative, even reticent. To those who did not know him well, he must have embodied a kind of ghostly silence. He was a wisp as he sat in the freshman dining hall, flanked at times by voracious football players or boisterous and sardonic classmates whose rough manners and explosive and reverberating laughter seemed a gauntlet thrown down to a world dominated by "phonies," Babbits, politicos, Puritans or clerks.
I now see what I did not see at the time. While some of Al's classmates were kicking over the traces, Al was quietly and unobtrusively guarding those he had carefully assembled during the course of his short life. It was not that he lacked a spirit of intellectual, of philosophical adventure – indeed, this abundant and exhilarating spirit helped to make us fast and inseparable friends. It was, rather, that Al's spirit – his inner conviction, and his inner passion – was at once capacious and hedged. He brought to his college days a world of continuities, certainties and clear and vivid expectations. I assume that his theological principles remained unchanged from the time of his Confirmation during his adolescent years. His boundless love of Lynne was already a polestar at a time when I was alienating an unbroken procession of blind dates from Conn College or Smith. Intemperance, abrasive zealotry or preachiness, conspicuous public displays of emotion, efforts to impose his deeply-held beliefs on others – these were utterly foreign to Al. He did not seek dominion – even of the most subtle sort – over others, but only friendship, partnership, reciprocal affection and regard. Most important, he was absolutely without malice, without pretense, and, as I now see, without envy. I am not here to explain all of this. I am not a person of faith. But I have long believed – I did not see it in 1960 or '61 – that Al Burfeind was the fairest embodiment of the Christian man, of the instructed and faithful conscience standing as he believed on the rock of the ancient church. His adult life was largely defined by devotion, steadfastness, absolute integrity – and by a web of duties and obligations which held him and his family during the course of his life. Allen Tate says of one of his characters in his novel The Fathers that he received the impulses of the world unmediated, on the very tips of his fingers. This was not true of Al. Instead, his life as I see it was formed in good part by a deep and abiding veneration – one might say, a ceremonial respect, ceaselessly and endlessly renewed – for fixed and indissoluble relationships linking him with family, friends, civic associations and the church. He endured times of great strain. But nothing – so far as I can see – ever weakened or corroded the passionate convictions and purposes which he possessed when he arrived at Trinity thirty-six years ago. Here is the cradle endlessly rocking in the midst of our roiling society.
No wonder we all found comfort and serenity in his presence, and in the presence of his family. In 1966 or 1967, after alienating yet another lady friend – this had become a kind of avocation – I repaired to the College View Tavern on Zion Street. There I imbibed. Proprietor Phil Garcia, the chain-smoking, heavy-drinking, chess-playing survivor of Iwo Jima, intervened to save my life and perhaps the life of others. My Honda motorcycle was lifted into his stationwagon and, with the human cargo, transported to the Burfeind's tiny apartment at the Hartford Seminary at the bend of Sherman Street. When I awoke on the couch the next morning, Lynne was bustling about like a fairy godmother. Al wanted to talk about Paul Tillich, whose ponderous tomes he was reading in a seminar. For a time I stared fixedly at a Matisse print which – as I know see – represented the timeless principle of aesthetic order with a novel and heterodox approach to form and color. Classical music filled the small space. I drank coffee and watched Lynne in her sprucing operations. No one made a remark, barbed or otherwise, about my embarrassments. My head was heavy, but my soul was rested – or buoyed, if you will – by the unalloyed affections and good cheer which radiated from my tolerant and accepting friends.
You can see that the Matisse painting can be viewed as an emblem of Al's personality and of the frame he assembled during his rich, carpentered life. Al was a liturgical Christian, but he was no country vicar. If anything, his still points helped prepare him to enter a garden of intellectual and artistic delights. Indeed, as an undergraduate, he seemed to delight in every task he undertook – the sole exception being physics, which he dropped like a hot coal after a semester or two. Together, we read – sometimes aloud – the poems of Dylan Thomas, T.S. Eliot, and W.B> Yeats. Together we explored Faulkner and Camus and Sartre and Thomas Wolfe and Dostoyevsky. We were united in our robust sense of intellectual romance and – not least – in our shared sense of humor. The comedic sense pervaded our friendship. We invented a glossary of preposterous words. We sketched oral satires of our colorful – or colorless – professors. With the help of others, we hatched a bag of tricks. The climax of our hijinks came during our sophomore year, when we used a zippo lighter to ignite and to consume by fire the entire first section of the New York Times as J. Ronald Spencer sat reading it in our unkempt Allen Place apartment. The image of Spencer – a refugee from Victorian times – trying to dispose of a flaming New York Times could be patented and sold if only I could get it out of my addled brain.
All humor – humane humor, that is – is an affirmation of life amidst our ever-present sense of frailty, failure, sin, and, ultimately, mortality. It is a celebration through affectionate mockery of our weaknesses, our irrepressible habits, our vexations and our idiosyncrasies. It is central not marginal to civilized life. It is among the most powerful lineaments of friendship and love. It is a kind of operetta – a music of the heart. It is not proof against tragedy or suffering, and we ought not to define it as such. But it is a monument of the human spirit. Al BUrfeind had a dry and mordant sense of humor and an infectious, throaty laugh – the laugh, I realized years ago, of a cultivated and talented tenor who could sing anything from Bach to Britten to Stravinsky. I cannot tell you how many times I've heard this laugh in the last four days, nor how many times I will hear it in the future. I last heard it with Frank Kirkpatrick in the Café Epinema last month – a small, succinct, concentrated explosion, the sound of a controlled ignition that told us that all the engines were on.
I received a phone call yesterday asking me to compose a remembrance. It triggered a flood of memories going back to my eighteenth year. In those days, because of the core curriculum, we were often given the same readings and did our writing assignments simultaneously. This heightened our sense of intellectual comradeship, and helped create undying friendships in our greenhorn ranks. But now Al – who helped me puzzle through "The Lovesong of J. Alfred Prufrock" during English 101 – has died, and I have had to do this assignment alone. It has tapped emotions that I have rarely or perhaps never felt. These emotions are inspired by the life of this grand, good man – this man of faith, this man of virtue – whom I am proud to call my friend.
[Courtesy of Peter Kinzler, QED '64]